Porches are enjoying a surge in popularity at the moment. During the COVID-19 pandemic, people began to realize how valuable an outdoor covered space can be, as a place to invite neighbors up to enjoy socialization in a safer place. (See also this Wall Street Journal article).
With porches in the midst of a comeback, we decided to take a look at three reasons why you should choose vinyl porch posts to help create this space for your family.
1). They're strong.
Superior's porch posts coming off the line with their aluminum inserts for strength
This is the most vital point, and one that might get missed when talking about vinyl, but any good vinyl porch post will have an aluminum channel to give it the structural power it needs. Superior's porch posts can hold many times the weight of a typical porch roof thanks to the aluminum insert. Posts are blow molded into their shape and then spacers and the aluminum channel are inserted to make them functional posts that truly do support a porch roof.
2). There's a huge variety.
You can get almost any style of post or column in vinyl. Many houses with porches look beautiful with the traditional turned wood porch posts and railing to match, but modern houses can use square posts or thinner columns like Superior's Savannah, which have a more farmhouse feel.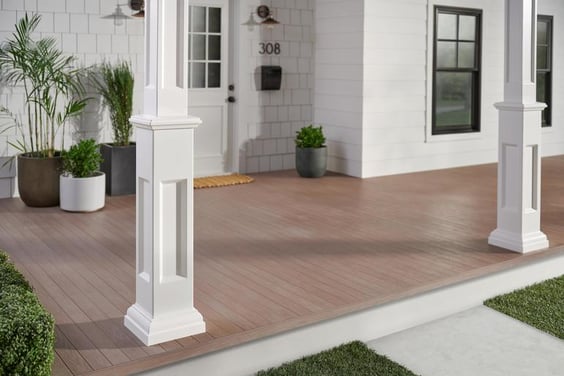 Columns are another great option for homes that require this architectural feature. Many large homes can benefit from a larger post, and columns are the right size and weight to balance out a larger home's features. Railing can be added with the help of wedges. Columns also contain the aluminum support channel for strength.
3). They're incredibly low maintenance.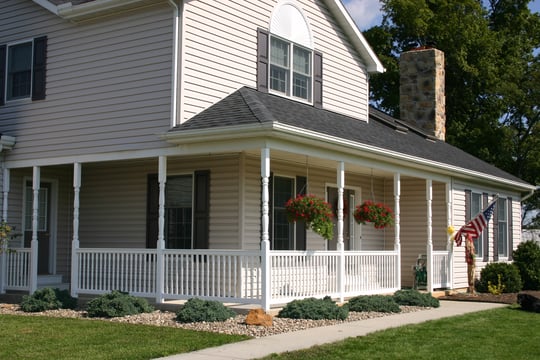 Imagine a porch post that never requires painting! That's the beauty of vinyl. Wood and even fiberglass posts can require paint and upkeep, but vinyl posts are nearly maintenance free. Unlike wood, they aren't affected by weather and they need only an occasional cleaning to remove dirt. For busy families, this is a major selling point. You can enjoy porch time with friends and family without worrying about when you're going to get around to maintaining your posts and railing.
While porch posts or columns probably aren't the first thing that comes to mind when choosing exterior options for your house, they are an important part of setting the mood on your porch, and since they mark the entryway, they also affect entire aesthetic of your home. With vinyl, you can have affordable, low-maintenance options in a style you love that will last a lifetime.