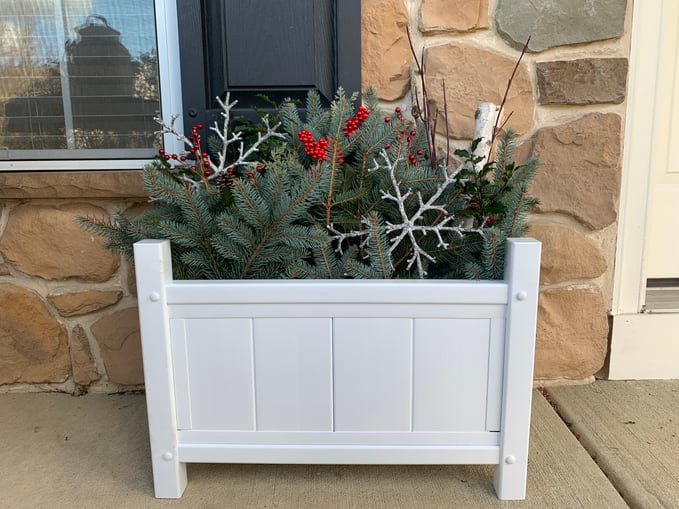 We are deep into Autumn and Thanksgiving is on the way—which of course means that holiday decorating is right around the corner (if you haven't started already!). If you still have aging mums in your planters, now is the time to think about changing them out for some holiday décor.
To help you get your Christmas creativity flowing, here are some ideas for using lawn and garden items to decorate your outdoor living areas for the holidays.
Planters
To spruce up your vinyl planters, fill them with greenery or Christmas baubles. Add bows, pinecones or other seasonal items to make them shine. You can go vertical with small trees (artificial is great!) or use birch poles or sticks strung with lights.
Pinterest is a wonderful source of inspiration for your holiday planter ideas—just search Christmas planters and check out all the options.
Arbors and Trellises
Arbors and trellises aren't much good for supporting flowers in the wintertime, but they can be put to use in other ways! You can string Christmas lights on your trellis or arbor for holiday cheer or wrap bows or garland around them. If you have a fan trellis, turning it upside down gives you a Christmas tree shape to decorate with lights and outdoor ornaments—just add a star or other topper to the stake at the top!
One item we love this year is a climbing vine string light—perfect for a trellis or arbor.
Mailbox Posts and Lampposts
White vinyl mailbox posts and lampposts make a beautiful backdrop for lights and garland. Or add a big bow to the top to say "Merry Christmas" to the neighborhood.
Railing
Get your porch or deck railing into the holiday spirit with lighted green garland wrapped around the top rail, icicle lights hanging down, or check out this post with 10 beautiful decor ideas for your railing: https://frontporchdecoratingideas.com/christmas-porch-railing-decorations/
These are just a few ideas for ways to turn your outdoor living space into a holiday wonderland. Let us know if you have more or share your photos on our social media. Happy Holidays!