Timeless Style and Casual Elegance
For the past few years, pergolas have been a hot outdoor living item--and for good reason! Combining shade with natural light, they're a perfect place to entertain or relax.

Having a pergola creates a designated space for activity and can section off your yard or deck in a natural way. Pergolas can provide shelter for a seating area, bar, dining table, or even a hot tub. Sometimes they even have swings suspended from the rafters!
What Material Should You Use?
Traditionally, pergolas were made of wood, sometimes with brick or stone pillars. Modern pergolas can be made from a variety of materials. At Superior, we think one of the best choices is vinyl. Low-maintenance vinyl pergolas look as good as wood, but don't require the on-going maintenance that wood does. You will never need to paint your vinyl pergola, or replace a rotting wooden rafter, or worry about insects burrowing into your pergola posts.
The best vinyl pergolas are structurally supported by aluminum or some other material. While you can purchase a low-cost vinyl pergola online, if it's not structurally supported it's more like a fancy lawn ornament than a long-lasting part of your outdoor living space.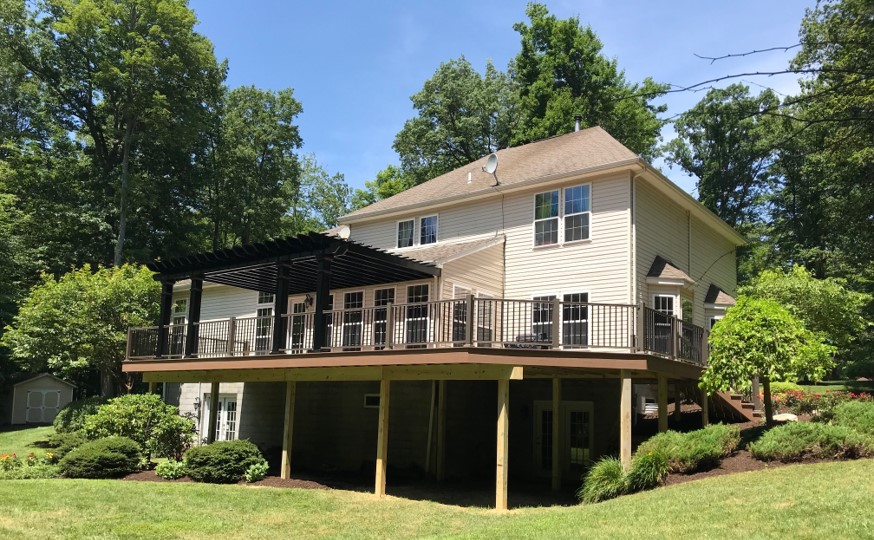 Customize Your Pergola
While the basic structure of a pergola is constant, there are many ways to make the space your own. From the furniture inside to the enhancements all around, you can customize your pergola to your tastes. And if you prefer a simple, no-maintenance look, a vinyl pergola can stand on its own just fine.
Creative ideas to enhance your pergola:
Hang pendant lights from the rafters for dinner lighting
Train vines to grow up the columns and over the rafters
String holiday lights around the posts and each rafter
String café lights across the pergola
Hang baskets of flowers or greenery from the rafters
Place a cluster of planters at one, two, or all four corners
Line one or more sides of the floor of the pergola with planters
Hang curtains that can be tied back or released depending on the strength of the sun