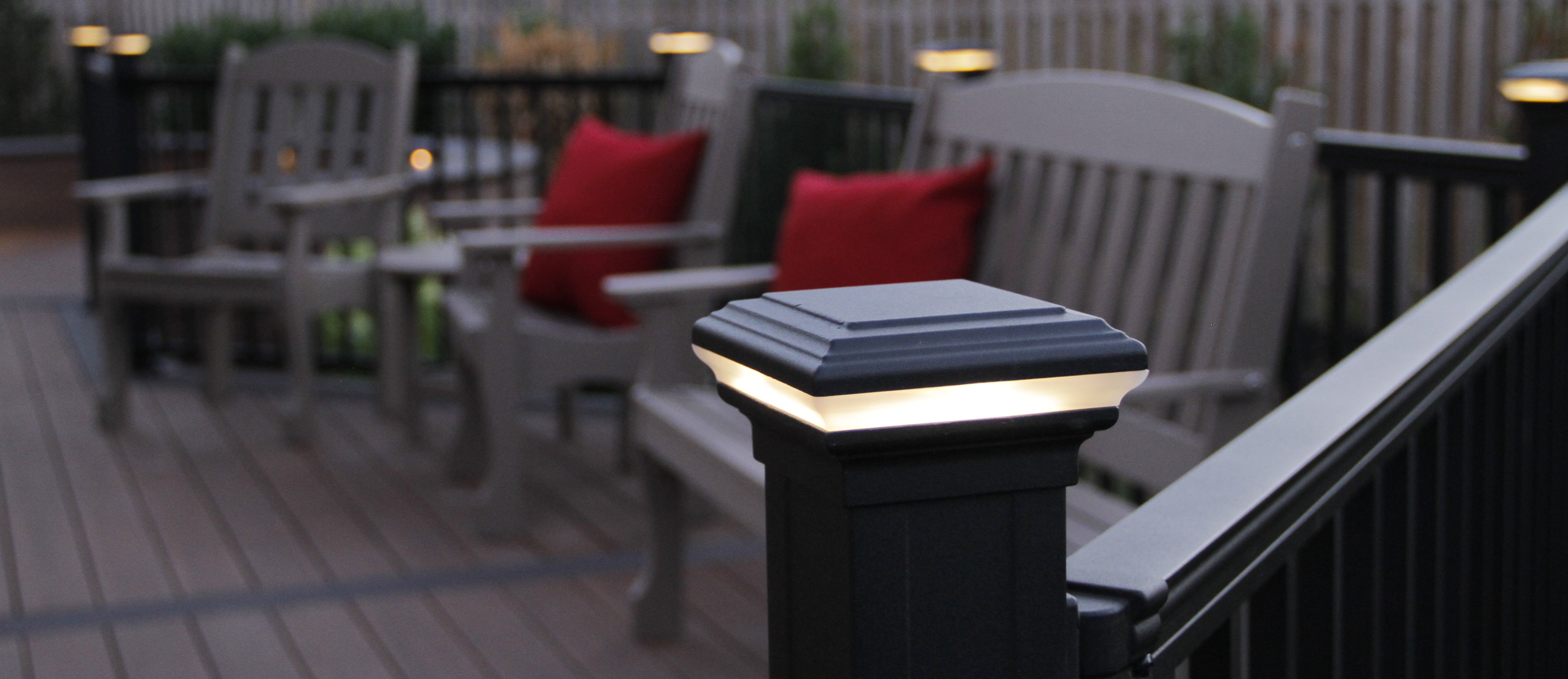 We know how it goes. People are out on the deck talking, eating, and having fun. The sun goes down, the stars come out—and no one is quite ready for the party to end. But no one wants to sit in the dark, either. Maybe there's a floodlight on the deck—but that feels too bright. And the light from the house isn't quite bright enough.
Fortunately, there are many, many deck lighting options that manufacturers have created to fill the need for party illumination after the sun sets. Many of the bigger names in deck railing have created their own lighting lines, with post cap lights, accent lights, and stair lights. In addition to being a useful addition, deck lighting really adds to the appeal and ambiance of your deck.
Here are some things to consider when you're thinking about deck lighting:
How many lights do you need?
Do you need just 3-5 lights on posts? Do you want lights on 20 posts? Do you want lighting on stairs or in corners? Knowing what you need can help with wattage calculations so you know how much power your deck lights will require. Having just a few will obviously be a cost savings, but a few lights might not be enough if your space is large and you'll be using multiple areas. And adding accent lights on stairs can be a way to increase safety for your family and guests. Smaller lights are both less expensive to purchase and require less energy when on.
What do the lights look like?
Light styles vary across manufacturers. Some are made of vinyl, some of aluminum or other metal. Some are caps that sit high above a railing post while others fit more like a traditional cap, cleanly in the post. Searching online for images of post cap lights will reveal the many styles and types of post cap lights you can choose from.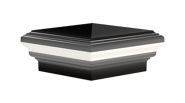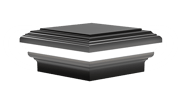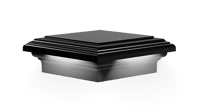 (To see our deck lighting options, visit placidpointlighting.com)
What kind of control do you have over the lighting system?
With outdoor lighting, lights might be connected to a switch in your home, but many types are linked to a control panel on your deck. Some systems come with a photosensor that turns the lights on or off when the outdoor light levels change (lights will come on at dusk and go off at dawn).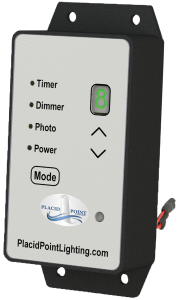 Light systems can also be on a timer so they automatically come on at a certain time and stay on for 10 or 12 hours before automatically shutting off.
Also, will you be able to adjust the light levels for mood? If it's a particularly dark night, or friends are actively moving around the deck, you might require a higher light level than the low lighting you want for sitting around a table, chatting, or enjoying the stars.
All in all, lighting can be one of the most impressive and useful parts of your deck, but thinking ahead of time about what you need and can afford, how you use your space, what kind of add-ons you want will be incredibly helpful as your or your contractor develop an outdoor lighting plan.