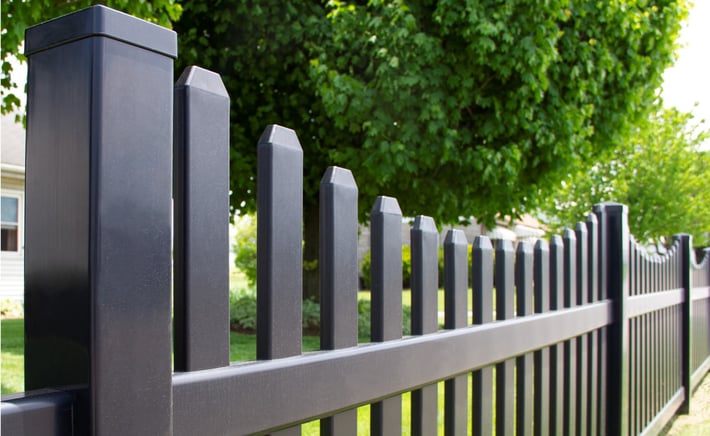 When you're choosing a fence style, it's important to think about what you want your fence to do and what your goals are for your outdoor space. Superior offers four styles of vinyl fence, each with its own benefits. Ultimately it comes down to the look you want and the function you need.
Read on to learn about each fence's features and benefits...
Picket Fence
Picket fences are a timeless choice and bring classic charm to your yard or garden. Gaps between pickets make this a fence with an "open" feel. You can use picket fence to accentuate a part of your yard, divide one section of yard from another, or mark the lines of your property. This fence also works equally well in the front or the back yard.
A drawback to some picket fences is that one side can look different from the other (depending on where the pickets are fastened). Superior offers options with routed-through pickets, so you don't have to choose a side to face your house and another to face the neighbors—because both sides look the same!
Privacy Fence
The name pretty clearly illustrates what this fence is about: privacy. If you want to close off your backyard and create a retreat for you and your family or friends, this is the fence you want. A privacy fence is high, with no space between pickets, so it blocks others' views. As a result, it also blocks your views. But for people who want privacy in their outdoor living space, this fence is the top choice.
Privacy fence is ideal for houses that are close together because it provides separation and cuts down on visibility. It's also ideal for a yard with a pool, as it gives your family privacy while swimming and helps to keep unwanted visitors away from the pool. (Always check the pool code in your local municipality before installing a fence). Pair your privacy fence with a gate, self-closing latch, and lock for additional safety.
Yard Fence
Yard combines the best of picket with the best of privacy for a unique fence. Sometimes called semi-privacy, these yard fences have gaps between pickets and feel slightly more open than a privacy fence, but more secure than a picket. If you think privacy fence might make you feel too closed off, but you still want a security, yard fence could be your best choice.
You can use yard fences to enclose a pool area (again, always check your local pool code before installing) or to help secure your backyard.
Post and Rail Fence
Post and rail fence is the fence you envision when you think of a farm or a ranch. If you want a rustic look to surround a large property or field, a post and rail fence is a classic way to do it. Post and rail is very open and provides clear sight lines, but creates a clear boundary. It can also be used as an attractive accent fence. Superior's vinyl post and rail fence is splinter-free and also safe for animals.
If you need further inspiration, be sure to check out the fence pictures in our inspiration gallery.