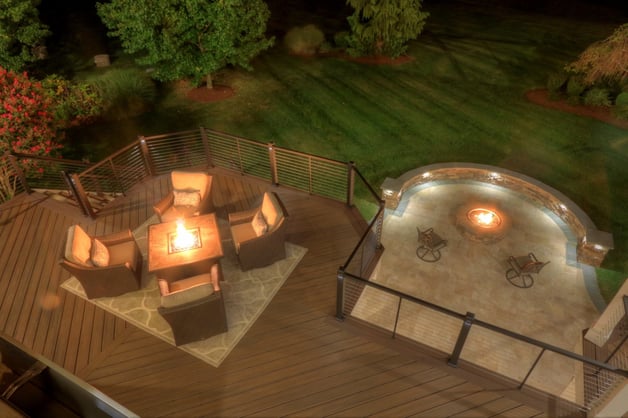 It's easier to do now than retrofit later
When it comes to adding a deck or outdoor living space to your home, there are many considerations around time, budget, and add-ons. Lighting is a beautiful addition that you might be tempted to put off until another time. But lighting is almost fundamental! Here are four reasons we think you should consider adding lighting now, instead of waiting until "someday."
Credit of Header Image: Deckscapes of Virginia, LLC.
Usability
With families spending more time at home, giving yourself additional living area for working remotely or playing together is a wonderful part of having a deck. But in spring, fall, or in late on a summer evening, dim light can take away from the function of your space. Darkness or dim light is a great way to relax, but a drawback if you're trying to read, play, or enjoy a meal.
Adding lighting to your deck extends its usability long past the end of traditional "deck season" so even in April or October you can eat or play on your deck late into the evening if the weather permits.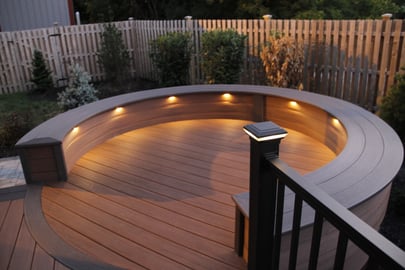 Security
A deck provides another point of access to your home, so lighting it up for safety and security is important. Stairs or other trip hazards can be illuminated to avoid injuries for your welcome guests, while lighting will deter unwelcome guests. With dusk to dawn lighting, your deck will stay lit all night making it harder for anyone who might want to sneak onto your deck to do so without being spotted.
Consistency
Choosing lighting with your railing means that you get consistent looks and matching lights. Many companies supply lighting to match their railing exactly, so you can get a seamless look from post to light. If lighting availability changes, your retrofitted lights might not look exactly right with your railing system.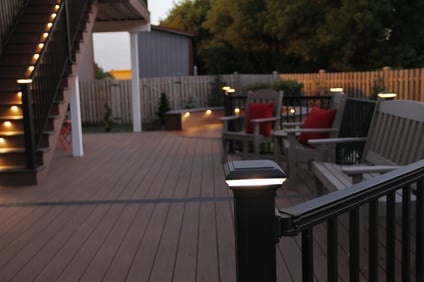 Easier to Do on Install
It's easy to think "oh, we can add lighting later if we want to." It's true you can retrofit your deck with lighting later, but it may add additional costs and hassle that you didn't anticipate. Make sure to speak with your contractor about the cost of lighting versus the cost of retrofitting. For example, post cap lights are a common lighting element, so buying standard caps and replacing them with lit caps later means buying post caps twice. Another piece to consider is the wiring, which your deck builder can easily hide in your posts and make a plan for when installing but will have to manage later if you choose a retrofit.
The bottom line is: when you choose lighting as part of your deck build, rather than a retrofit, it can be planned for and integrated into the design. That makes for consistent looks, an easier installation, and security and functionality on your deck from the very beginning.
Looking for outdoor LED lighting? Check out Placid Point Lighting and their catalog below: