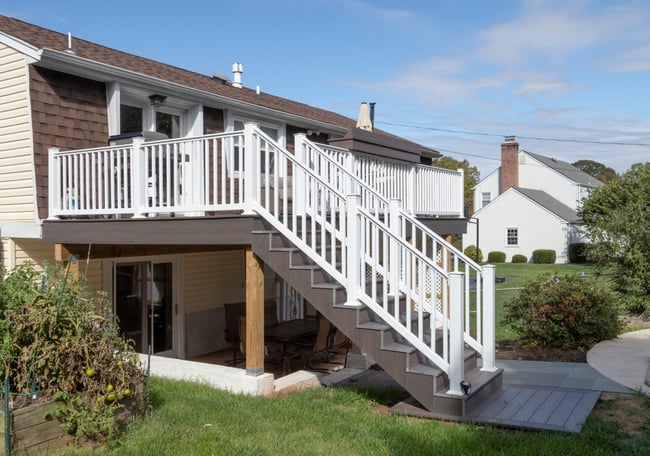 The vinyl railing market is saturated with product at different price points, from different countries of origin, and in different styles and colors. But not every vinyl railing is the same. Here are some questions to ask about the vinyl rail you plan to purchase:
What is it made from?

All vinyl is made with resin, of course, but there are numerous fillers and additives. Some additives, like impact modifiers, strengthen the vinyl to reduce brittleness, while UV protectants help the vinyl hold its color. But companies can also choose to add fillers to reduce the cost, which ultimately results in a cheaper, weaker final product.
Does it come with reinforcement channels?
Vinyl on its own is a great material, but after years in the elements it can contract and expand, and ultimately sag. Vinyl railing should always have a reinforcing metal channel running through it in order to keep it strong and sturdy.
Is it easy to install?
How quickly does this railing install? Can it be done quickly using standard tools? If the answer is no, there are better options out there. Save yourself from frustration on the job and choose the product that installs easily and saves time.
Does it come with a warranty?
If your railing doesn't come with a limited lifetime warranty or any kind of labor warranty, you should be asking "why not?" The company that supplies your railing should stand behind their product and provide you with true customer service.
Superior has the answer…
Fortunately, when you take a look at our railing, you can see the Superior difference. We use only the highest quality vinyl resin with no fillers, we install the aluminum reinforcement channels for you, so all you have to do is mount the railings to their posts. You can use standard tools, and all of our railing is backed by a warranty that's one of the best in the business--including a 5 year prorated labor warranty. Plus, as a bonus, everything is made and manufactured right here in the United States.

Give us a call at (800) 633-7093 or fill out our contact form if you want to know more.